Our Fleet
Industry leaders, lowest emissions Euro 6 Fleet, Some of the best drivers in the business between Ireland, Spain and Portugal.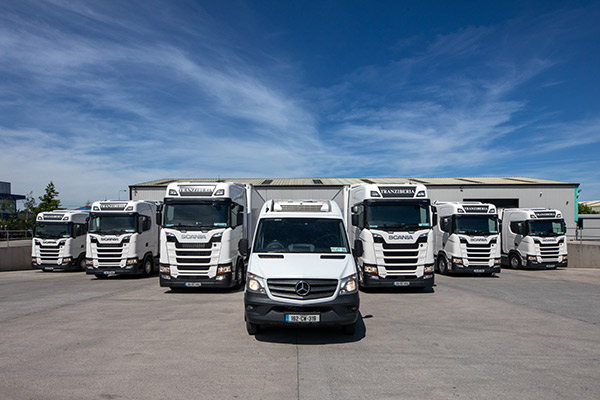 The Fleet at Tranziberia
At Tranziberia, we operate a fleet of 35 Scania trucks and 40 temperature-controlled trailers. Our fleet is one of the youngest in this sector, with no vehicle over 5 years of age included on the Tranziberia fleet. Our high standards when it comes to maintaining our fleet means we have an outstanding record for reliability.
Our fleet of multi temperature-controlled units can carry two sets of cargo set at two different temperatures, ideal for carrying fresh and frozen cargo. Temperature is controlled to industry standards and can be monitored and set remotely.
Over the years, we have modernised our business by investing in the most up to date telematics systems across our fleet. All our trucks and trailers are fitted with tracking equipment and monitored remotely. You can read more about the integration of technology in our road transport services.
Tranziberia employs over 35 drivers.
Many of our staff members are long serving and have worked with us since the beginning of the company. We only hire experienced drivers and invest extensively in driver training. By providing the best training and working conditions possible for our drivers, we can ensure that your load will always reach its destination safely and securely.
Drivers are also GDP-trained for the safe, legal transit of pharmaceuticals.