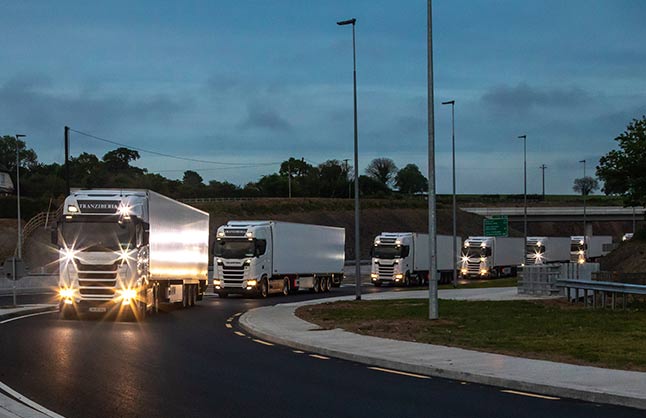 Road Haulage Services at Tranziberia
Our professional road haulage services help hundreds of businesses every year to trade reliably between Ireland, Spain and Portugal. Tranziberia are specialists in the collection and distribution of food, pharma and freight between Ireland, Spain and Portugal.
With over 17 years' experience working with a diverse portfolio of clients, we understand this market very well. We offer a variety of road transport services including food transport and pharma transport suitable for businesses of all sizes seeking a reliable partner for trade between Ireland and Europe. From one box to multi pallet delivery, full loads/partial loads and cost-effective groupage transport, the team at Tranziberia would be delighted to talk you through your options.

Ireland, Spain and Portugal Distribution
We manage collections and deliveries between Ireland, Spain and Portugal for hundreds of customers every year. Tranziberia is a reliable transport and logistics partner for everything from fresh meat and food products, to pharmaceuticals and large freight loads.

Pharma Transport
Tranziberia transport Irishmade pharmaceuticals, medical devices and life science products to Spain and Portugal. We have adapted our transport service to GDP to offer the pharmaceutical industry in Ireland a safe, specialist transport service. Drivers are GDP-trained to handle pharmaceuticals safely. Our temperature-controlled units are secure and monitored to ensure the accountability of your products.

Food Transport
Our short transit times and fleet of temperature-controlled units are ideal for the transport of perishable goods between Ireland, Spain and Portugal. For Spanish and Portuguese producers, we also offer groupage services on return loads including pork, Spanish meats, artisan products and other specialist food products for the Irish market. We are the transport partner of choice for many corporate clients and local artisan producers in the food, wholesale and retail sector.

Full Load/ Partial Load
Whether you are a small artisan producer or a national retailer/manufacturer requiring bulk deliveries, at Tranziberia we offer frequent partial and full load services with guaranteed short transit times between Ireland, Spain and Portugal.

Groupage Services
Our groupage transport service allows us to offer you better value in the transport of small loads by combining loads from multiple clients. Whether one box or a multi pallet cargo, Tranziberia is a leader in Spanish and Portuguese groupage.

Multi-Temperature Loads
We are the transport partner for clients who need to efficiently transport two sets of cargo set at two different temperatures. Our fleet of multi-temperature trailers are ideal for transporting fresh/frozen meat and food products.